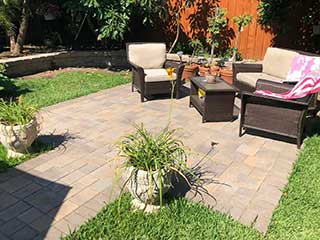 Pavers offer a huge amount of versatility when building a backyard patio. For instance, no other material offers you such a huge amount of choice in design - you can truly create a patio like no other. In addition, pavers are a very sensible material for any patio, offering unparalleled grip and drainage no matter what the weather's like.
Design Your Ideal Backyard Patio
A patio made from pavers can be constructed to your exact specifications. You'll be able to choose whatever style of bricks you want, from flagstones to cobbles and everything in between. You can specify colors, too, from neutral gray to warm honey tones, and decide on a pattern that suits your backyard landscape. This means your patio is far more than just a functional outdoors space; it's a genuine feature of the property and a major enhancement of the landscape.
Attractive and Functional
Pavers are more than just decorative, though. This material offers excellent grip and allows water to drain quickly, too. This means that unlike wooden or concrete patios, pavers are safe to use at any time of the year, since they won't become slippery and dangerous every time rain falls.
Easy Maintenance and Repairs
Taking care of pavers isn't difficult, either. An annual cleaning and resealing ensure that the bricks don't start to lose their attractive finish and won't suffer damage from UV rays. If any bricks do become damaged over time, they're also very easy to fix; they can simply be levered out individually and replaced with new pavers of the same color.
Create Your Perfect Patio
Pavers make an ideal surface for any backyard patio, offering unparalleled landscape design options as well as great usability. To start designing the perfect outdoor space for your home, simply get in touch with Pave Your Landscape. Our team will be able to give you all the information and guidance you need, not to mention, pave any type of landscape feature you're interested in.
In addition, we offer:
Fire Pit
Stone Paver Installation
Decorative Rock Outdoor Living
BBQs, Pools/Spas, Artificial Turf