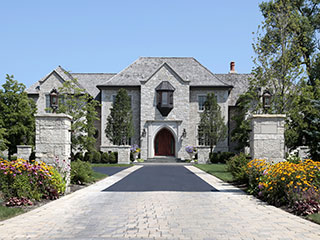 Repairing Old, Damaged Pavers
There may come a time in your life when you stumble upon one or more damaged driveway pavers and you aren't quite sure where to turn. Not to worry, our team can professionally assist you and get everything looking great again in no time! Sometimes pavers are only cracked on one side and can be removed, filled in, turned around, and reset into your driveway looking like new again. Of course our team will replace them completely should they be too damaged, so either way you need not worry!
Fix That Uneven Driveway
Another problem some people may experience is driveway pavers that have sunken into the ground. This can cause an uneven surface which could potentially cause other problems or become more hazardous over time. Choosing us is one of the best options around when it comes to getting an issue like that fixed. Our team will come and remove the affected area, bring the ground up, and place the same pavers back down creating a level surface once again.
Removing Oil Stains Is A Breeze
Getting oil stains on your driveway, or any type of hard stain for that matter, can really be an eye-sore for the homeowner. Rest assured because all you need to do is contact us and we will come take care of that stain for you. Our experts will professionally attack the stained area with the best cleaners and help alleviate that pesky stain. If the stain can't be washed out, the pavers themselves can always be replaced, adding another great reason to having them. Whatever the solution, you can be sure oil stains won't stand a chance against us!
Don't Wait For Great Service
If you have driveway pavers and need assistance in anyway with them, contact our team today for expert services. If you don't have them and want them, then what are you waiting for? Get a hold of our team today and make your appointment!
In addition, count on us for:
Landscape
Firepit With Pavers
Stone Paver Installation
Custom Backyard BBQ Grills