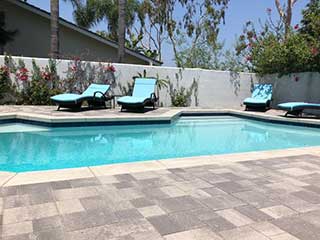 Seal Your Pavers For Protection
Pool and deck pavers look great and last a long time and one way to have them last even longer is with sealant. It will help protect against the elements, color fading and stains, not to mention keep your poolside area looking like new. It is important to have experts who know what they are doing perform this task as there is a such thing as over applying. Our team is more than happy and always ready to assist, ensuring the job gets done right! With us, you can rest assured knowing you have a team of professionals by your side.
Expert Repairs And Replacements
Sometimes when pavers get cracked, they can still be repaired and used if the damage isn't too extensive. If you ever find yourself in a similar situation, our experts are the ones to call for the solution. Our team can repair cracked pavers by removing them, filling in the crack and then turning them over and resetting them so the damaged side is face down, rendering it invisible. So if you have a crack or a chip in your pool deck, let our experts see if it can be fixed and if not, you can also count on us to find a perfect replacement!
Hassle Free Removal
If you ever find yourself in a situation where you need pool & deck pavers removed, our company is more than willing to offer you that service as well. You need look no further because our team is who you can count on to professionally and safely remove all of your old pavers for you! Forget about DIY and let us take care of it so you don't have to, saving you time and frustration in the end.
Make An Appointment Right Away
You can depend on the fact that no matter the problems you face when dealing with pavers, Pave Your Landscape is ready to assist you, making your life a little easier. With us you will always get quality services done by experts you can count on. Contact us today and let us find a time that best suits you.