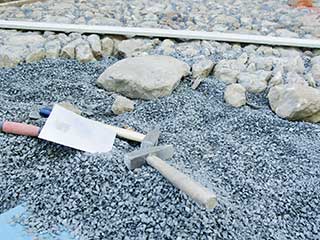 Pavers can bring a lot of benefits to any property's landscape. They're an incredibly hard-wearing and durable paving material, and they also provide a lot of advantages over other materials. The customization options make them a much better fit to most homes, and they're also much better at letting water drain away quickly. This all relies on the bricks being installed properly - here's how it's done.
Preparing The Groundwork
The first step is to create a space for the pavers to be installed. An area of ground needs to be dug out and cleared of rocks, roots and other debris. The next step is to compact the earth and provide a flat surface. Before adding any foundation materials, anti-weed matting should be laid down to prevent plants from growing into the pavers from below. Doing this correctly will reduce your future maintenance needs.
Laying The Foundations
Now a layer of gravel is added and the ground is compacted again. This process will be repeated until a sufficient depth is reached - usually 3-4" for patios and sidewalks, and double that for driveways. On top of this a layer of sand is put in place, about an inch deep, and carefully smoothed out to provide a base for setting the pavers.
The Paver Installation Process
Now it's time to create your chosen pattern of pavers. Our team will carefully cut and fit each brick in place, leaving a small gap between it and the next brick. Once the pattern is complete, it's time to carefully fill the spaces between the pavers with polymeric joint sand and pack it down. The outsides of the paved area can be concreted in to prevent pavers from slipping out of alignment.
Finishing and Sealing
The sand will be gently applied with water and left to dry and harden for 24 hours. Once this stage is completed, sealant will be applied to the pavers to provide protection from UV rays, which can damage and discolor them.
Top Quality From The First Step
With years of experience providing high-quality paved patios, driveways, walkways and more, Pave Your Landscape has the expertise you need. Contact us today to have local professionals help you design and create your desired landscape features.
We also take care of:

Edgers Edging

Firepit With Pavers

Stone Outdoor Kitchens

Paver & Flagstone Patio